The 90's legend is still so cool!
It was a sensational debut when the 500 series started to be operated. Its look was so modern and it run at the top speed 300 km/h.
The Hello Kitty Shinkansen is also this model, but this legend is still operated nowadays without any decoration as a Kodama ( the local Shinkansen) from Shin-Osaka to Hakata.

Designed by Alexander Neumeister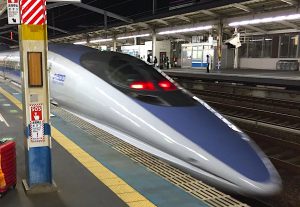 Now the N700 Series is mostly operated as a faster Shinkansen, but we've looked for this model sometimes during our train journey. It still looks so cool! The German industrial designer Alexander Neumeister was charged for this design, he also designed the Tokyo Metro 10000 series.
Fun for Kids, a toy driver's seat is on board
We decided to take more time for this 500 series, and we were on board the Kodama, the local Shinkansen. It was so nice, there was a driver's seat for kids! Our child was so excited about it. Maybe we were lucky because not all 500 series have this train cab.