Cafe Den in Uguisudani since 1972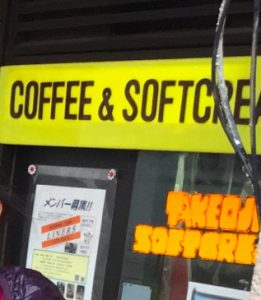 When we visited this cafe, it was not crowded, couches and tables were real 70's style and the floor was sticky with oil. It was a really interesting space.

The green melon soda with a pointed hat is very photogenic!
Sorry for terrible quality of the photo, it was the iced coffee which Goro san ordered. The soft ice cream has a rich and fresh taste and was a good combination with the coffee. Goro san called it "a smart guy with a pointed hat".

For instagramers, we recommend to order this green melon soda version, it was more photogenic than the coffee version.
We noticed that this cafe had another specialty, pan gratin, it was maybe half of a white bread loaf filled with Gratin. If we were more hungry, we would have had tried this dish too. Now, this cafe is more popular, so you should expect standing in a line, especially on weekends and holidays.