A Goddess is the icon of this market
If you visit Hirosaki, don't leave this city without visiting the Rainbow mart (a Hirosaki food market).
We didn't have information of this market before our visit in Hirosaki, but when we were crossing there, it smelled really good. We found this Goddess statue and were just wondering what kind of building was here. We were only sure, that there were yummy foods there.
So many fresh cooked foods and their prices are so low!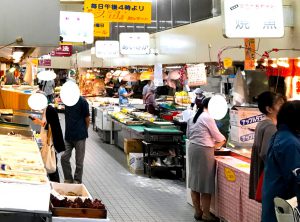 Our hunch was correct! At this market, there were so many fresh cooked local foods, that it was very hard to decide what should we try. All foods looked very yummy and they costed very little.
We bought some croquettes and tested them right away. Hell, everything tasted unbelievably yummy! Sorry, we polished them off so quickly, so there are no photos of these croquettes.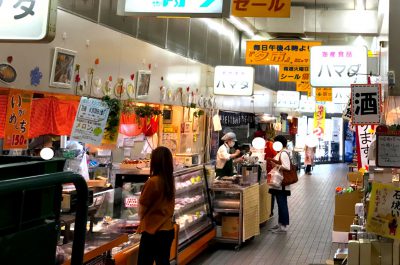 Before you leave Hirosaki, buy something to eat here.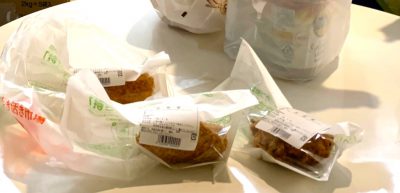 There were only few tables and chairs at this market, but it would be nice to enjoy yummy foods at such a local spot, but it would be not that easy to get your seat here. It would be good too to take away what you want to eat. Most of things are available to take away.
How to get to this Rainbow Mart
This market is called Niji no mart (Rainbow Mart), but the English translation is Hirosaki Grocery Market. It takes only 5 minutes from Hirosaki station on foot.