Olivean's picking up service by bus was so good!
There are many accommodations on Shodoshima, but it was most important for us, which hotel offers the best picking up service from the Tonosho port . 
According to our research, this hotel "Olivean" offers the best picking up service by bus. It is necessary to book your seat for the bus in advance, but there are 4 pick- up busses available until 12:00. Thanks to this service, we could start our sightseeing before 12:00 without our luggages.
The hotel staff members are really kind and they told us detailed information how we can access some spots easily and brought us to the nearest point by bus on the way to the Tonosho port.
Our room was the cheapest one, the so called "Sunrise room"
The Olivean offers some types of rooms, for example, there are freshly refurbished stylish rooms available, but our room was the cheapest one the so called "Sunrise Western style room". 
The interior of this room is from the end of 80's, the so called bubble economy time in Japan, the room was so spacious and the beds were very large and comfortable.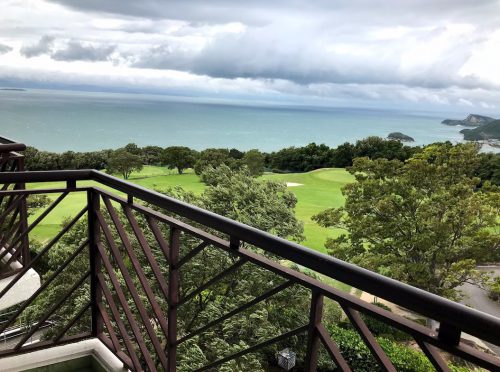 And the room had such a wonderful view!
It was really amazing that we payed under 7500 Yen per person. Do you think that this price is only for the room? NO! This price included a dinner buffet and a breakfast buffet.
The dinner buffet at hotel Olivean surprised us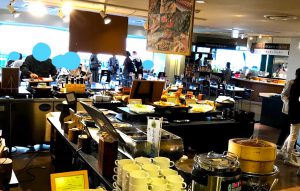 We already had some experiences about buffet restaurants and breakfast buffets at hotels in Japan (the so called "All you can eat" style), but the quality of the dinner buffet at Olivean surprised us strongly.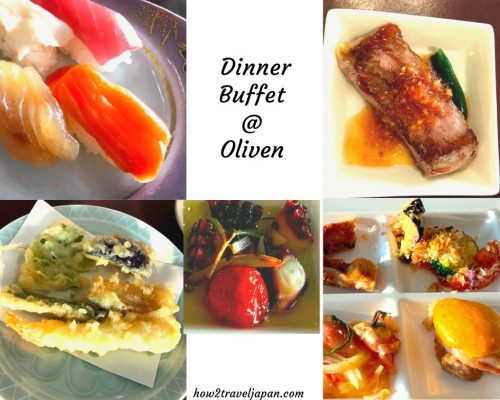 A Sushi cook, Tempura cook and Steak cook were serving fresh foods in the small kitchen spaces. Sure, now it is a beloved style for Japanese people, but the Olivean's quality was really good! Tempura and Sushi were really good and other dishes were also good. The sensation was this beef steak.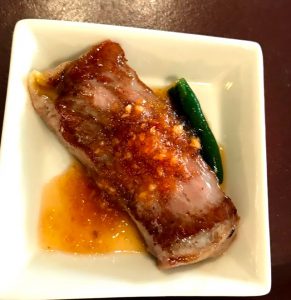 We could see the meat grilled right before us, it was marbled beef from Shodoshima. Its taste was unforgettable!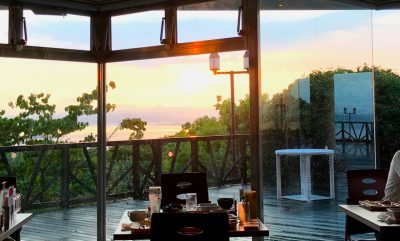 We could see such a beautiful sunset at the buffet restaurant! The breakfast buffet also has good quality, we enjoyed good meals with a beautiful view.
The open air bath also has an amazing view!
There was a bathroom in our room, but the hotel has a hot spring, sure we took th large public bath and the open-air bath.
It was really unbelievable, that we could enjoy wonderful meals and a hot spring for such a low price, thank you for our Japanese expert who booked this hotel for us!

Sunrise from Olivean's sunrise room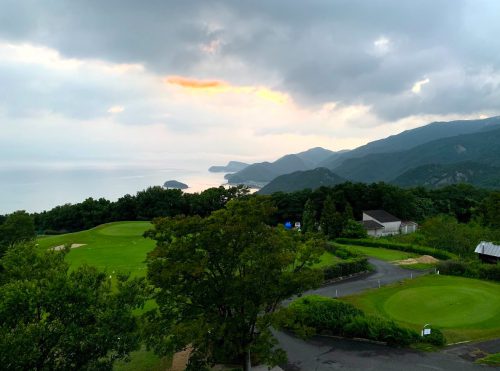 It was still cloudy in the early morning of this day, but the view from our "Sunrise room" was amazing enough. After breakfast the weather became better, a perfect weather for sightseeing!
Olivean offers various sports activities
Maybe you noticed, that there is a golf course, it belongs to the hotel. Not only golf for adults, there is also a course of mini golf and pat golf. Tennis grounds and sports grounds are offered and the prices are good.
The swimming pools were not in service when we visited, but during the Summer Vacation season, you can also enjoy swimming (Swimming is free for hotel guests). We really want to visit here again!