A special limited express from JR Kyushu
When we visited Kyushu in 2018, we wanted try to ride 2 trains from JR Kyushu. 
One of them is this green limited express "Yufuin no mori", it is operated from Hakata to Beppu. Its name comes from Yufuin, one of the stations of this express, where there is one of the very beloved hot springs in Kyushu. The destination Beppu is also very famous for a beloved hot spring spot. 
You can access these hot springs with this special express and enjoy your relaxed train journey too. 

Enjoy view and special lunch boxes in the Yufuin no mori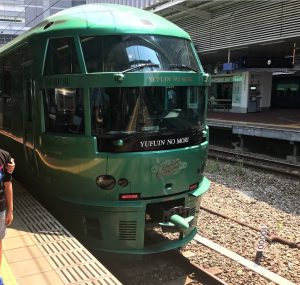 There are 2 types of train models, our train was the latest version.
Our reserved seats were these deep green seats in the last car. Wide windows are built in the front and back of the car, it is so good not only for enjoying wonderful view but also for adding a very bright atmosphere.
The seats were very comfortable and tables are large, ideal for enjoying lunch in the car.
Some special lunch boxes are available in this express, one of them is "Orizuru", it is supervised by a Japanese Sushi restaurant with a one-star Michelin rating. You can find more information and photos of lunch boxes here. Actually, it is possible to book such a special lunch box in advance, but it would be not that easy, because only telephone booking is available… 
We were actually very satisfied with our seats, but when we saw the 4th car, we regretted that we did not carefully enough research about this train.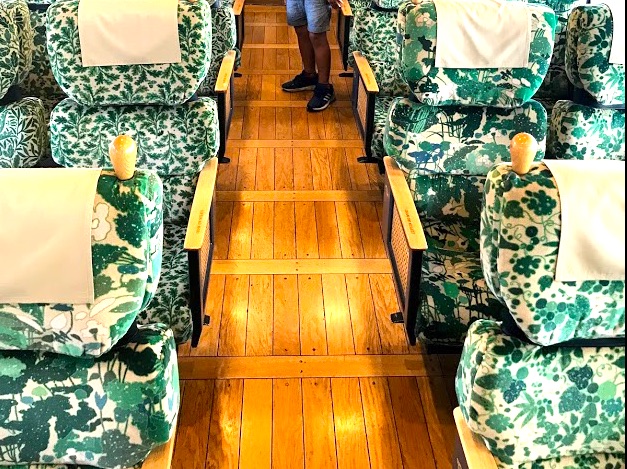 All seats in the 4th car were really gorgeous! And they were more comfortable than our seats, maybe.
Very kind staff, lots of fun for your kids
In the train, kids can have much more fun, they can try to wear a uniform of a train operator and it is also possible to take a photo with such a memorial board.
Unfortunately, we had to get off this special express in Kurume station, because we wanted to ride another train of our wishes. After getting out of the train, one of the train operators was waving his hand from the window. The staff was really very kind!

How to book your seat in the Yufuin no Mori with your Japan rail pass
We know, that the way to Kyushu from Tokyo is very long, but if you are going to Kyoto or Osaka, you can reach Hakata from Shin-Osaka in around 2.5 hours with the Shinkansen Sakura (Not MIZUHO).
The Yufuin no Mori is a beloved express, it would be very hard to get your seats. You should book your seat quickly. Our recommendation is reserving your seat in the 4th car,  if your Yufuin no mori has 5 cars. Good luck!