Our second Anello bag is not a backpack, but a tote bag (tricolour version)!
Before our latest visit Japan, we found stylish tote bags on the online store of Anello. They were on the top of our "must buy" list.
But it was not that easy to find this tote bag during our stay in Japan. Anello has its flagship store in Osaka, but there is no such store in Tokyo. We tried to find it in many other stores and some shopping malls, where Anello's backpacks are in the sortiment, but we couldn't find it.
We almost gave up searching for it. But one day before our departure from Japan, we finally found this tote bag! The store we found it in was a sport shop. We were very lucky we could get this tote bag without paying taxes (we bought some other sport goods there, so the price was totally over 5000 yen)!
There are many other colour variations available on the online store. Buying one of them on the online shop is easy, but we wanted to check the real one before purchase. Only 2 versions were on sale at this sports shop, a version with a black logo and the tricolour version. The black logo version was very stylish, but it could be bought on Zalando in Germany. So we decided to get this tricolour version.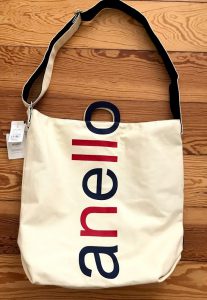 This tote bag is very useful, not just as a tote bag but it can also be used as a shoulder bag. We are very satisfied about the quality and the price is also good, it costs only 3500 Yen!
You don't know Anello? It is the Japanese national backpack!
For those who don't know Anello, if you visit Japan, you can see such backpacks everywhere (see below). 
These backpacks are probably the products of "Anello". The trend of Anello has spreaded across Japan since some years ago. Because too many people of every generation own their Anello's backpacks, Anello is already out of fashion for whom that follow the latest trend in Japan. 
Anello's functions are very friendly for users.
A certain number of Japanese people have been using these Anello backpacks, even if there are such critical opinions from trendy girls. If you use a backpack from anello once, you can understand, why a certain number of fans still love these backpacks.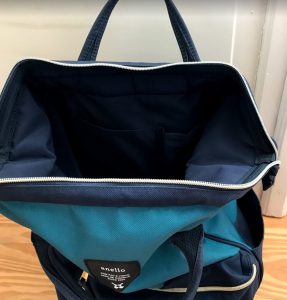 We bought this backpack as our first Anello bag last year. During our travel, we were very satisfied with the quality and functions. 
You can open the bag widely, and it won't just jerk back to its closed position. There are some small pockets inside. On the outside, there is a larger pocket with a zipper and there also are 2 side pockets. You can pack more things in this backpack than you think.
It is possible to take out contents from the side. It's maybe not good for some people against pick-pockets. You are probably right, because Japan is safer than other countries.
We use this backpack in Europe now. But the important things are packed in a different small shoulder bag and unimportant things like foods and drinks are packed in the Anello backpack. 
How to buy a backpack from Anello
Even though we know that Anello is not fashionable in Japan any more, we saw many tourists from overseas with Anello backpacks in Japan. According to the news, the first Anello flagship store overseas was opened in Singapore. In Europe, many models of Anello bags are available on online fashion websites like Zalando. But if you visit Japan, you can get your own Anello bag for a cheaper price. We recommend strongly to get yourself an Anello souvenir in Japan!