By using Deoco, does anyone smell like a Japanese high school girl?!
Before our visit Japan, the information about this body cleanse "Deoco" was so sensational for us.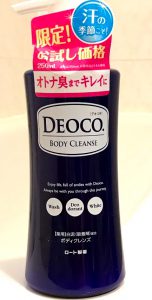 This body cleanse was originally produced for women age 30 and up. Women in this age cannot produce lacton, which makes the sweet scent of young girls, that well. Lacton was added in "Deoco". Another ingredient is "white clay", that cleans skin effectively and adds a sweet flower scent because of lacton.
What surprised us, was not this product itself. Through twitter,  news has spreaded about a certain number of middle-aged men that bought Deoco. Some of them even stocked up on Deoco. Such guys tweeted things like  "Wow, I smell like high school girl now!!" or "From now on I will only use Deoco to wash my body, It's a wonderful product!".
We tested Deoco ourselves!
We fortunately could buy Deoco for a trial price. Its texture is like cream lotion. Making bubbles is not so that easy compared to normal body soap. Sure, Deoco is not a soap, but a body cleanse. 
It smells really good, but We are not sure, if this scent is like a teenager girl's. We only are sure, that if someone smells this scent, that person will probably have a positive image about the person smelling like that.
But this good scent stays only for 2-3 hours. If you want to keep this sweet scent for a longer time, it would be better to additionally buy the deodorant from Deoco.
Middle-aged men use such products, which was a surprise for us, but why not? Not only middle-aged women, but also middle-aged men have a right to choose what kind of body cleanse or deodorant to use, right?