Is it hard to ride the Hikari Rail Star?
The Hikari Rail Star, this model was operated between Shin-Osaka and Hakata once as a faster Shinkansen but after the Introduction of the Kyushu-Shinkansen, the operation of this model has been gradually reduced.
Now the Hikari Rail Star is operated only 3 times a day (440, 443, 442), yes, it must be said that it is not that easy riding this model.

We luckily could ride the Hikari Rail Star!
When we wanted to go to Hiroshima from Mihara station after sightseeing in Onomichi, surprisingly the Hikari Rail Star came to Mihara station! How lucky we were!
The Hikari Rail Star is out of fashion? No way!
If you ride a non-reserved car of the Rail Star, the seats look not that special. We recommend to reserve your seat in advance.
We had no idea that we could ride this special Shinkansen, so we did not reserve our seats, but we saw the reserved seat cars.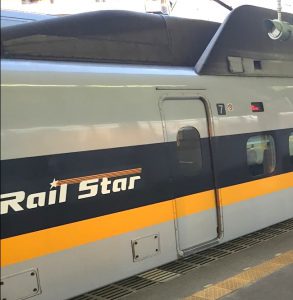 No first class cars, but office seats & compartments are available
This model has no Green-car (first class). Instead of the first class, there are "office-seats" cars 4-8, you can work on a large table and use electric outlets in the first row, these seats are very friendly for business people.
There are some compartments in the 8 car. The reserved cars are very comfortable, so a first class car is unnecessary for this model.
How to ride the Hikari Rail Star
Now, the Hikari Rail Star is operated as Hikari only 3 times per day (Hikari 443 from Shin-Osaka, Hikari 442 & 440 from Hakata) .
If you want to reserve a compartment, tickets for 3 to 4 persons are necessary.
If you have your Japan Rail Pass, you can reserve a compartment without extra charge.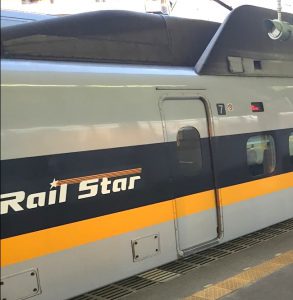 As Kodama (local Shinkansen) it runs often  from Shin-Osaka-Hakata.
If it says 700 Series and no green car on the time table information , maybe the Rail star model is operated. Be careful, don't confuse with the N700.
Unfortunately, a reservation for a compartment is  NOT possible for this Kodama version of the Rail Star.