The black Unicorn Gundam looks very menacing
Because we are huge fans of Unicorn Gundam, we've already visited Odaiba, Tokyo in order to watch the 1/1 scale Unicorn gundam. Our first real grade gunpla is also from Mobile suit Gundam Unicorn.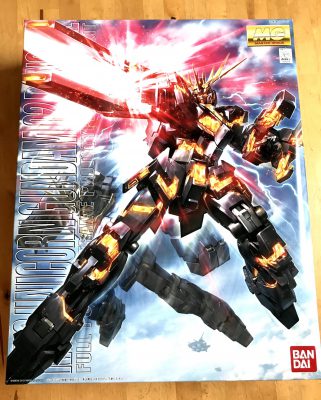 When we found this Black Unicorn Gunpla, whose official name was UNICORN GUNDAM 02 BANSHEE, at the model shop near us, we were really surprised. We couldn't believe our eyes because Gunpla, especially large ones like the Banshee were very rare in Germany.
Actually, we wanted to take it without hesitation, but the price stopped us. It was really expensive…But thanks to Rakuten Global Express, we could get it for a little bit lower price.
Very fine details and a complicated structure
We expected that this model, being a Master Grade easier to build than a tiny, finicky Real Grade.

We are afraid that building this Master grade of Banshee here is not that easy…
It takes more time than we expected. The many fine details and complicated structures fascinated, but at the same time exhausted us.
But if you are huge fan of Unicorn Gundam, this black Banshee is surely a must have Gunpla!