Instead of the beach, we went to a hot spring
Actually, we wanted to swim at the rainbow beach on Sakurajima. We found the beach, but no one was there… Maybe, it was too hot to swim? In any case, we couldn't stay at the beach for longer than 1 minute; we had to go to a colder place as soon as possible, the heat was really terrible. Then, we found a hot spring!
The Sakurajima magma hot spring was our oasis
The rainbow Sakurajima is a kind of national youth hostel, but it also offers tickets for non- guests. Tickets for adults cost 390 Yen,  150 Yen for children and a hand towel costs 200 Yen.
Our choice was a family bath, 1 hour costs 1100 Yen.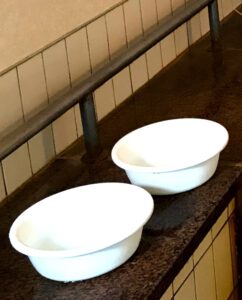 The family bath didn't have a good view compared to the large public bath and the equipment was worn out. But we were really refreshed after bathing in the hot spring.
After taking a bath, you can eat some specialties from Sakurajima at the restaurant in this national youth hostel. But we didn't have enough time, our choice was a cold drink from a vending machine.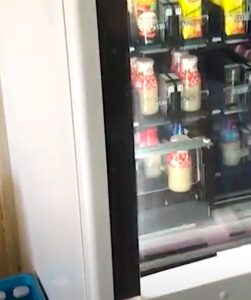 We had to head to the port in order to get back to Kagoshima. There was so much ash in front of the youth hostel.
Of course this is Sakurajima, an island with an active volcano.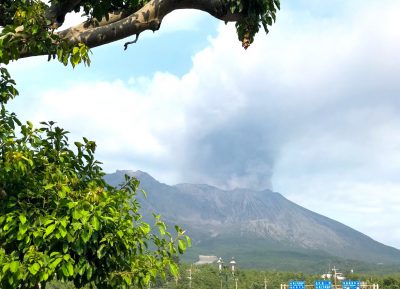 A short visit at the tsukuyomi shrine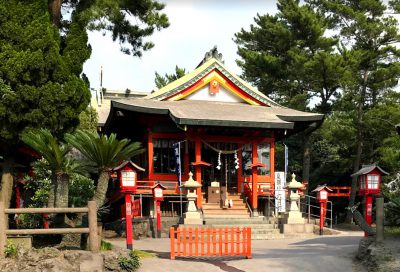 Just before our departure, we stopped by at the Tsukuyomi shrine. We've just been refreshed in the hot spring, but after 10 minutes, we were sweating like crazy.