We could finally ride this pink Shinkansen!
Since last year (2018), the Hello Kitty Shinkansen has been operated between Shin-Osaka and Hakata. When we visited Japan last year, this service had just started, so we had no chance of riding this Shinkansen at that time. It was a so sensational debut and really crowded.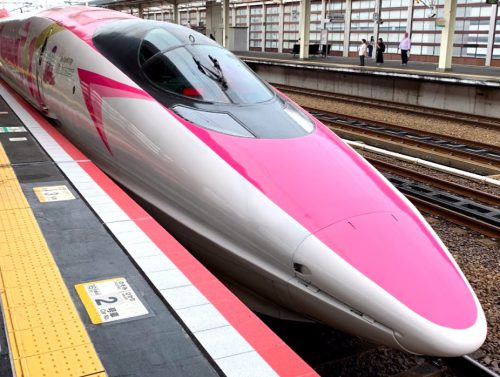 But this year (2019) we could finally ride on it! Only to take this Shinkansen, we booked a room at a hotel in Okayama.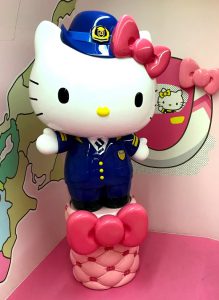 We were so happy because we could get seats in the 2nd car, yes,  the Kawaii car! 
Maybe many passengers have already left from the Shinkansen between Hakata and Okayama. Some days before our riding, we asked a staff member at the service centre "Midori no Madoguchi" if it would be possible to book our seats in 4th car with our Japan Rail Pass. But only one seat was still available… So we thought that we should find our seats in some non-reserved cars and in the worst case, we must stand until Shin-Osaka…
We were waiting on the platform since 30 minutes before the departure time.  Against all odds, there were many seats still free in the 2nd car. Big surprise!
The 2nd car is the so called Kawaii room. As we had expected, this car was really sweet! Hello Kitty and pink ribbons decorated this car everywhere.  
Maybe it is too sweet for some people, it would be embarrassing for business people, if they must ride this car in their business suits. 
From June until the beginning of September, Okayama is the focused city. Some staffs from Okayama were offering a packet for all passengers who visited the Hello Plaza in the 1 car. We could also get this packet, that included 2 kinds of grapes from Okayama and a crispy shrimp cracker (see below).
These grapes tasted amazing! We wanted to buy them at the supermarket, but a bunch of these grapes cost 3500 Yen! We could understand really well why they were so delicious.

How to ride the "Hello Kitty Shinkansen"
If you have a Japan Rail Pass, you should try to ride on it! The Kodama 730 (Hakata-Shin-Osaka) or the Kodama 741 (Shin-Osaka – Hakata) run for a long way, maybe some seats in a certain part of the ride are still available. You can find the calendar of the operation days and the information about how to ride here.
You can reserve your seat in one of the reserved cars (4th, 5th and 6th cars). Our recommendation is the 4th car. The hello Plaza is in the 1st car and the sweet, decorated Kawaii car is the 2nd car. From the 4th car, you can access these special cars more easily.
If you cannot reserve your seat, don't be down. Some cars of this Shinkansen are non-reserved cars, so you can ride it without any seat reservation, just by using your Japan Rail Pass. We recommend to wait in the line 20-30 minutes before the departure. Weekends and Japanese holidays will probably be very crowded.
The Hello Kitty Shinkansen is going to be operated until the end of September (2019). Don't miss your chance!