Journey per Tohoku Shinkansen is very comfortable
From Tokyo to Sendai in Miyagi, it takes  only 1 hour, if you ride the Tohoku Shinkansen "Hayabusa".
If you are going to visit North Japan, we recommend the Tohoku Shinaksen. You can ride it with your Japan rail pass. 

The way to Hakodate, around 4 hours from Tokyo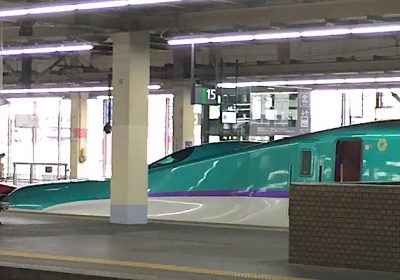 If you are going to visit Hokkaido, we can not always recommend to ride Tohoku Shinkansen.
If your destination is Hakodate, the Tohoku Shinkansen is a good way, it takes 4 hours from Tokyo. If you have your Japan rail pass, you will have recovered the cost of the Japan rail pass.
But if your destination is Sapporo, you should consider planning more time for your train journey. From Hakodate, it takes additional 3 hours to Sapporo, so way over 7 hours from Tokyo. If you'll only visit Sapporo, taking your flight ticket is better.
What is the difference between the train model E5 and H5?
Can you see the difference between the model E5 and H5 which are operated as Tohoku Shinkansen and Hokkaido Shinkansen?
Actually, they are almost same model, but the colours are different, the one with the purple stripe is the H5 and the pink one is the E5. But what do the H and E mean?
H means JR Hokkaido, E stands for JR East, H5 trains belong to JR Hokkaido, E5 belongs to JR East. We could not take photos them, but the logos on the body are also different.