The Japanese New Year's decoration is eatable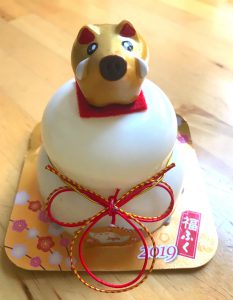 We got this New Year's decoration "Kagami mochi" from our friend in Japan in this Summer. She was decorating it in her house since last New Year. When our kid found it, this lovely boar attracted him.
Our child watched the Future Boy Conan on the Japanese Netflix. At this time, this boar looked like the piglet from this series "Umasou" (meaning tasty). This boar looks like "tasty", but it is not eatable.
This decoration is mainly made from Mochi (rice cake), it is decorated until 11.01. And it is opened on 11.01. and cooked as Zoni (New Years soup) or Oshiruko ( Japanese bean dessert).
2020 is the year of the mouse
Because 2019 was the year of the pig (boar), this little boar was put on the Kagamimochi.
We want to use it for 2020, so the boar must be switched by a mouse. But we had no such suitable mouse figure at home. According to information, an orange is usually put on the Kagami Mochi.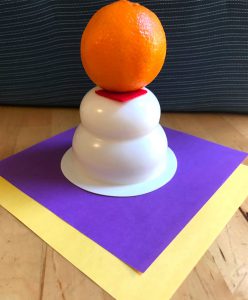 The Kagami Mochi is too small for this orange…
Don't throw me away…
This boar seems to be saying so. OK, our boar will be on our Kagami Mochi for 2020. 
Actually, the expiring date for this Kagami Mochi is the 30.04.2019, but we'll try to open it on the 11.01.2020. Hopefully it is still eatable…