If you like Meitaiko Pasta, we recommend this toast spread from Verde!
We love Mentaiko (spicy seasoned cod roe) Pasta and Tarako (cod roe) Pasta, so we always buy some pasta sauces as souvenirs from Japan.
You can watch the legendary Tarako pasta sauce TV spot from Kewpie.
This year, we found other products at a supermarket, it is Mentai style toast spread from Verde, this brand belongs to the Kewpie corporation.
According to the instructions, spread this cream on a slice of baguette or white bread load, and bake it in the oven for 2 minutes. 
So easy, we can taste Mentai toast at home in Europe, moreover this product is long lasting and after opening it can be kept at room temperature for about 1 month. To test it, we bought one tube of this product.
We regretted that we didn't buy more of this product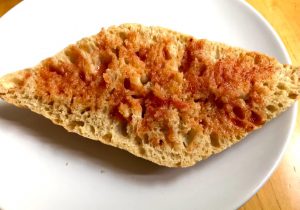 After opening the tube, it smelled like stinky fish, we thought at first that it was a good decision only to have bought one tube. 
But during toasting, a really good scent came from the oven, it made us really hungry. After a bite of this toast, we had to change our mind and say, "Why did we only buy one of these?".
We ate such a Mentai baguette at a restaurant somewhere in Japan. With this bread spread, you can easily recreate the dishes from Japanese restaurants at home!