One of the most popular things from Kaldi, the Panda's Annin tofu
When we visit Japan, we always check the Kaldi coffee farm which is dealing with coffee and import foods. It is always very funny, when we can find some products from our home country. 
According our research, the Panda's Annin tofu is the one of best sellers from Kaldi. Surely we bought some of them as our souvenir.
How to eat the Panda's Annin tofu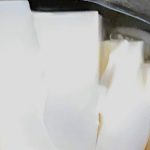 We were really excited when we opened the package. A jiggly white thing came out of the package. 
We cut it into small squares and tried the pieces. It tasted like creamy jelly, no doubt it was good, but eating only this jelly got us gradually bored. It was a heavy thing. Is it really the most popular product from Kaldi? Honestly saying, we were disappointed with this fact.
But we had to change our mind when our Japanese expert arranged this Annin tofu to Hong Kong style. It was really an ideal dessert after fatty foods. With the fruit cocktail and syrup, the Anin tofu tasted very fresh.
If you buy this Panda's Anin tofu, we recommend this Hong Kong style arrangement.