A lovely snowman bento from Niigata
This lovely snowman bento is not available everywhere, this bento is usually only sold at Niigata & Niitsu station. If you ride the Genbi Shinkansen or Joetsu Shinkansen and stop at Niigata station, we recommend to try it. It costs 1080 Yen.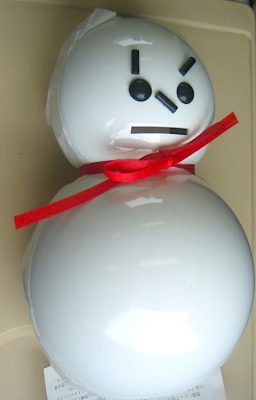 The rice from Niigata is delicious
This bento surely looks very lovely and this bento's quality is really good.
You can't see in on this photo, but this bento box was filled with rice from Niigata. Niigata is one of the best rice producer prefecture in Japan. The meat freaks, sliced egg and side dishes on the rice were also good.
After eating this bento, you can use this box as a coin box. It would be an ideal choice for lunch during train travel in Niigata.