Jagabees look like real fried potatoes
There are many yummy snacks in Japanese convenience stores and supermarkets, but Jagabee is something special.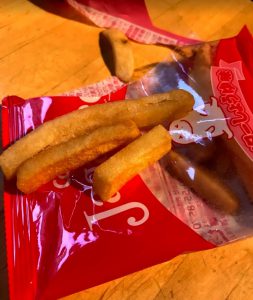 The shape of Jagabee looks like real fried potato! Not only its looks but also its taste spurred us, it tasted real potato!

Grand Jagabee is a must buy!
No doubt, the Jagabee is yummy, but if you find the "Grand Jagabee", you have to buy it!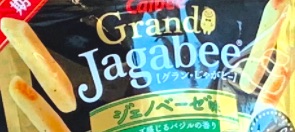 Grand Jagabee, these products have better quality and a richer flavour than a normal Jagabee. When we visited Japan, Genovese flavour was available. We were really into these Grand Jagabees. 
We bought many Jagabees as a souvenir, but we could not find this Genovese flavour…