The Nure Senbei, these crackers are not normal, they're soggy and soft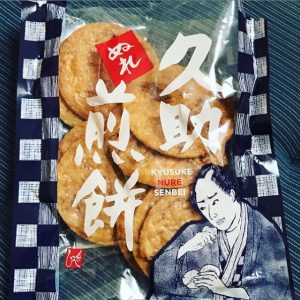 We got these Kyusuke Nure Senbei as souvenirs from Japan. It surprised us when eating these rice crackers, that they were not crispy, but very soggy, even though the package wasn't opened before.
These Kyusuke nure Senbeis aren't normal Japanese rice crackers. When we tried them at first, this unusual texture of rice crackers was very strange, but they were still tasty. But we can't recommend them to all people, especially not to people that prefer to eat crispy things more than than soggy things.

Now, our question was, "What does Kyusuke mean?" You can find the man with Samurai hair on the package. He is Kyusuke.
"Kyusuke" is a very old style Japanese name for a man, but it is used as a secret word for sellers too.
For rice cracker sellers, Kyusuke means an imperfectly shaped product. Actually, there are some stories about the origin of Kyusuke. But for a foreigner, this version is very simple to understand : 9 in Japanese is Kyu, it is not good enough to be 10 (perfect level).
If you can find Kyusuke at a shop, we recommend to take them. Such products don't look perfect, but their quality is as good as standard ones, furthermore the prices are lower.