Searching for seafood noodles in a Japanese style
We bought some cup noodles from Nissin at the super market near us. We definitely love cup noodles from Nissin, but the shrimp noodles didn't taste like we expected. 
In Japan, the seafood cup noodles from Nissin have a white soup, which has a very intense seafood flavour. These shrimp cup noodles are on a soy sauce basis, they are not that bad, but they're not same as the seafood noodles from Nissin in Japan.
The Demae Ramen seafood noodles had the soup we expected
At the when we found this Demae Ramen with seafood version.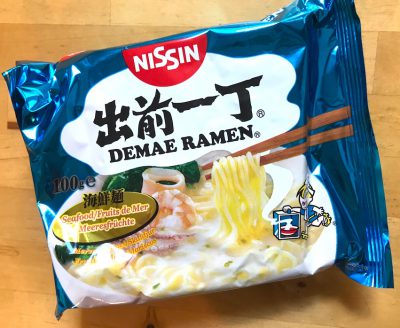 As you can see on the image of the package, this Ramen has white soup!
After cooking it, we were really happy because this soup was the one we remembered from Japan!