A special train from JR East, the "Resort Shirakami" is awesome!
We traveled this year not only to the Southwest, but also to the Northeast, Akita and Aomori with our Japan rail passes. If you are also planning the travel in the Northeast of Japan, the Resort Shirakami is surely worth a ride.

You can enjoy a wonderful coastal view from this train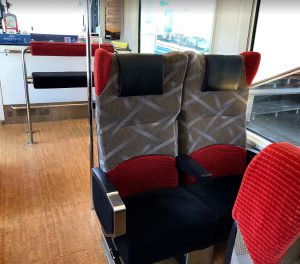 The resort Shirakami goes from Akita to Aomori, and it runs along the coast, so you can enjoy your sightseeing on this comfortable train. There are 3 types of trains are operating, our train was the Aoike (blue pond).
A seat reservation is necessary for this train, unfortunately we could not get our seats in the box seats compartment, where you can take off your shoes and stretch your legs. We were little bit disappointed by our seats, but in the train, we changed our mind because the box seats smelled like stinky feet… So we could enjoy our journey without such a scent on our seats.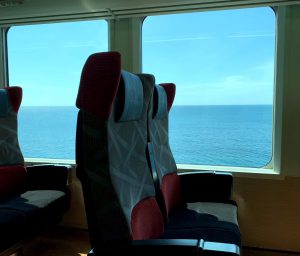 Don't forget to bring something to eat and drink
It is a long way to the destination, you can buy specialties at certain stations, but unfortunately there were no such sales on this day. So we prepared for our long journey by train in advance. 
This bento box was a Tori Meshi from Hanazen in Odate, Akita. This chicken rice bento (lunch box) already won some prizes and certain lunch boxes are necessary to book in advance. This version needs no reservation and it costs 1180 Yen. It was really delicious!
A train journey in Japan with such a good lunch box is really something special. With such an amazing view, what we ate tasted even more delicious!
The basketball trail at Noshiro station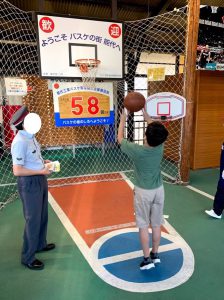 At Noshiro station, you can try a basketball game. The Noshiro city has a strong high school basketball team which became champion 58 times at the Japanese national high school competitions.
If you get a goal, you can get something, but our trials failed, so  we didn't know what is the prize.
15 minutes of sightseeing at Senjojiki station
At the Senjojiki station, the train makes a stop for 15 minutes. During this time, passengers can get off the train and do a short sightseeing tour.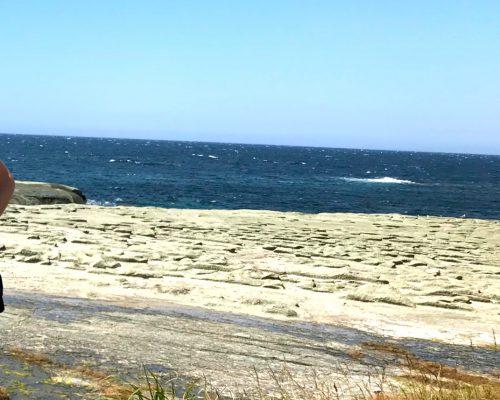 Senjojiki is the most famous rock leaf beach in Aomori. The view at the beach is awesome! It was a little bit windy on this day, so be careful, high waves can splash at you on such a windy day. 
If you want to eat something special at this beach, we recommend to buy it before sightseeing at the shop near the station. 
After our short sightseeing, we wanted buy grilled squid, unfortunately all grilled specialities were already sold out… 

A Tsugaru-Shamisen concert on the train!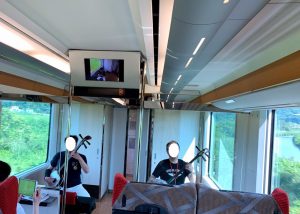 The last highlight was the Tsugaru-Shamisen concert. It was so cool, that this traditional musical instrument creates such powerful and speedy sounds. If you don't know this instrument, take this chance to get to know them!