The historical and cultural symbol of Sapporo, but..
The Sapporo clock tower has a terrible reputation. It was selected the most disappointing sightseeing spot in Japan. When we visited it, we realised it was way smaller than we thought.
The entrance fee & opening hour
When we reached it, it was already too late to visit inside. The opening hour is from 8:45 until 17:10. 
The entrance fee is not that high,  200 Yen for an adult and children under 18 years old are free. We are not sure if it is worth to visit the inside. But if you want to visit the Sapporo clock tower indeed, you should enter here at least 17:00.
Maybe the best photo spot in Sapporo
Though this clock tower has a bad reputation, as an icon of Sapporo it still has a big value. If they see a photo with the clock tower, most of the Japanese people can understand that it was taken in Sapporo.
You can find some advice for good positions for taking photos (see photo below).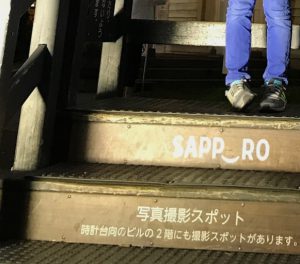 The advice is very good, we could take some good pictures with the clock tower.

We are satisfied with the good quality of the photos!
From the photo point, we could take really good evening photos of the clock tower. If you need typical memory photos of Sapporo, we recommend to visit this clock tower.