You can see the Unicorn Gundam in life size!
After finishing to watch "MOBILE SUIT GUNDAM UNICORN" on Netflix, we decided to visit Odaiba in Tokyo in our next visit in Japan. Why? Don't you know that the Unicorn Gundam in life size has been standing there since some years now?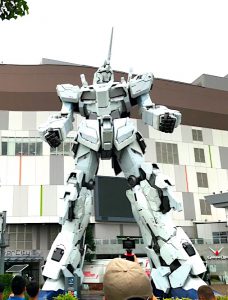 Before visiting, we recommend to check, when the transform show starts. Yes, This life sized gundam is going to transform  4 times per daytime and there are also some night shows. Please check the information here.
This transform-show takes only 1 minute. But it was a exciting moment for many gundam fans, sure we are also a part of them. We did not only take photos, but also a video!
It is impossible to leave here without visiting the Gundam cafe & shop...
Under the Unicorn Gundam, there are also the cafe and the shop. You can not only get plastic models of Gundam, you can also buy sweets which are packed in the Haros here.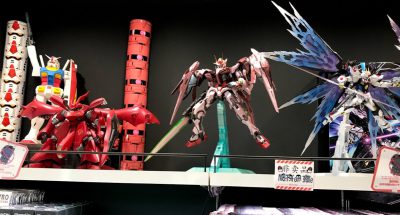 There are some Unicorn Gundam  plastic models in the show case with autographs. Unfortunately, we couldn't get to know, whose autographs they are.
It was such a pity that we didn't have enough time to visit the Gundam base in Diver City. If you are a big fan of Gundam, you must visit the Gundam base! Next year we must go there indeed!
Our selection is the Shinanju from Full Frontal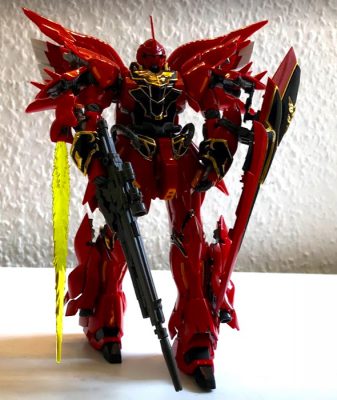 We bought this mobile suit "Shinanju" as our souvenir. Building this model was very complicated and it took so much time, but we are very satisfied the quality.
Full Frontal, a Colonel of Neo Zeon rides this mobile suit. It is said that Full Frontal is may be the legend "Char Aznable".
You can watch the first original Gundam series on Netflix in Japan! But only in Japanese...
Do you know that many Gundam series are available on Netflix in Japan? We started to watch the first series in Japan. Our time in Japan was too short to watch all of the 43 episodes in Japan. So we  downloaded many of them to watch in the airplane. 
Only Japanese versions are available, but thanks to the help of our Japanese expert we could understand probably over 50% of the story. Without the first Gundam story, it is not so easy to understand the details of story of the Unicorn Gundam. We wish strongly, that Netflix offers more Gundam series with English subtitles in the world someday…