The ski jump stage of the Sapporo Olympics in 1972, the "Okurayama-Schanze"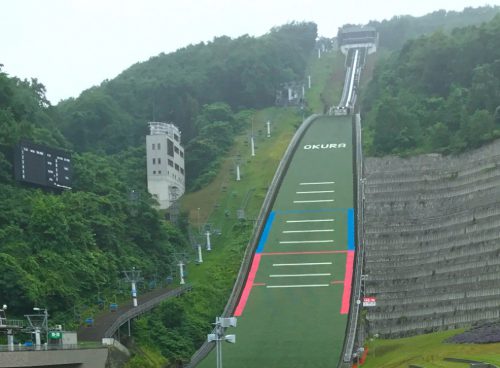 As a viewing point the Mt. Moiwa Rope way is maybe more known, but our recommendation is Mt.Okurayama Viewing Point. Though the weather was not sunny during our visit, we could really enjoy Mt.Okurayama. The view was amazing. 
If you want to see Sapporo at night, you should rather go to the Moiwa Rope way. But if the weather is bad, better visit Mt.Okurayama at noon.
How to get to the Okurayama Ski Jump stadium from the centre of Sapporo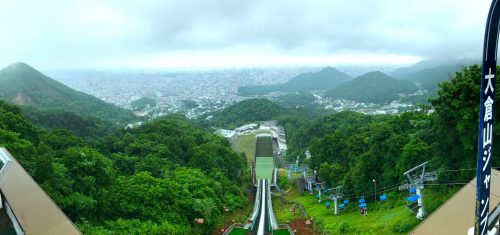 It is easy to reach here using the public bus from at the Maruyama Park. If you have a Japan Rail Pass, you can ride the JR bus with it. You can enjoy the view of the Maruyama Park through the windows of the bus during your ride. There are some spots in this park, for example a zoo and a shrine which are beloved by local people. When we visited here, the preliminary games of the national high school baseball tournament took place at the stadium. You can visit this park after going to Mt. Okurayama if you prefer to.
You should try this lift like a ski jumper!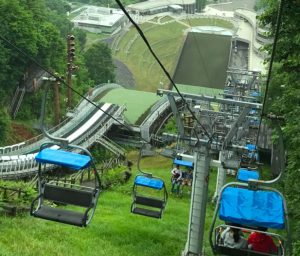 We highly recommend to try the lift here. You can ride on it like a ski jumper.
The fee is really low, only 500 Yen for the round trip.You should do this. Be careful about the opening hours, which are from 8:30 until 17:00 (in winter) or until 18:00. It is closed when the competitions take place. Before you visit, check here.