Awarded as the best white bread loaf in Japan 2016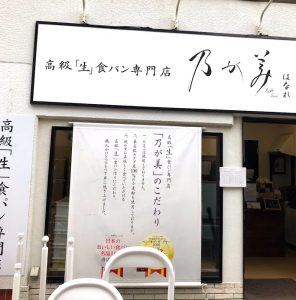 We actually have known the name "Nogami" for some years. When we were in Japan, we saw some shops from Nogami and there always was a long line.
We love Japanese Shokupan, white bread loaf, but we prefer to avoid standing in line during our stay in Japan. There are so many yummy foods in Japan, so we did not want to spend our time in lines.
But this year (2019), it was a little bit different. When we visited Kawagoe, we found a Nogami shop without a long line. Moreover the staff told us, there were some cancellations, so some bread loafs are available to buy!
The high quality Shokupan was packed in such an elegant bag
One loaf costs 400 Yen (plus tax), we bought just only one loaf, because it costs really much for a bread. Our bread was packed in the elegant bag, it looked really good.
A very soft crust and scent of wheat
Only one loaf, but it was big enough for our breakfast in the next day. During cutting it smelled slightly like wheat and we noticed that the crust was very soft.
Eating fresh bread without toasting is recommended by Nogami, so we ate fresh bread directly, yes, it tasted very good and the aftertaste was sweet. 
We bought Calpis butter for this special toast.
But we love toast much more than fresh one. We already bought Calpis butter for our special toast.
We have already had various Japanese white bread loafs, and Nogami's bread is really good, but honestly, we are not sure that it is the best one in Japan. But if a reservation or standing in line is not necessary, it is worth trying this special bread loaf in Japan. You can see the shop list of Nogami here.