Traditional Ryokan with hot spring
There are some traditional Ryokans (Japanese style accommodations) with hot springs in Hakone Yumoto. 
YAEIKAN, ryokan at Hakone Yumoto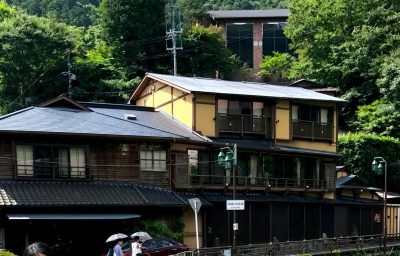 We stayed at the Yaeikan. It is possible to walk there from Hakone Yumoto station. This Ryokan has various rooms, renovated rooms with a private bath and old styled rooms. Our choice was a old styled one.
Taking a bath only with your family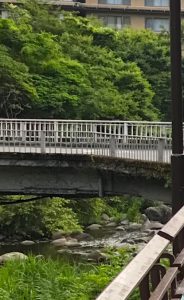 Our room has a beautiful river view. There is a toilet but no private bath in the room. It was not renovated so there are some things that are hoary for Japanese people. But it seems to be charming and quaint for the international tourists. 
We could also take 2 bathes as private use (30 minutes each bath). We could also take
other  bathes
(a large one and one outdoor) with other guests.
Dinner and Breakfast at your room
Dinner and breakfast were awesome. All dishes were decorated so nicely and beautifully and they were so tasty. We were very satisfied with the quality and quantity. The price was also amazing. It costed under 15,000 Yen for one adult . We booked our room with the 
Japanese  version of Rakuten Travel
. We couldn't find this accommodation in the English version. If you want to stay in the high quality room with your private outdoor bath, there are plenty  possibilities in Hakone, see
here
.