2 lovely Akita dogs are the mascots of this Onsen pension
Our journey in Akita this year was aimed to meet real akita dogs. The Akita dog visitor centre near Odate station is a possibility to meet real akita dogs, but there is nowhere offering a better chance to meet Akita dogs than Furusawa Onsen Koyokan in Odate. Here, you can get to touch the 2 lovely Akita dogs and enjoy a hot spring too.
The Akita dog with a smily face is Haru. She is the first Akita dog of this pension. Last year, she brought 6 puppies and became a mum.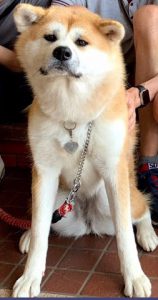 This one with a proud face is Hana, one of these 6 puppies. She became 1 year old and now she almost looks like the same age her mum Haru. The staff told us, that she is a cousin of Masaru, the famous Akita dog of the Olympic winner Alina Zagitova.
Access to this pension is not that easy. There are not so many busses from Odate station to the Nipro Hachiko Dome, the bus stop nearest to this pension.
If you come to Odate by train, we recommend to take a taxi from Odate station. It costs not that much, We are not sure now, but it cost under 1000 yen. If you check in early ( possible from 16:00), you can have more chances to have contact with these lovely dogs. So don't waste your time!
Dinner and breakfast are available as options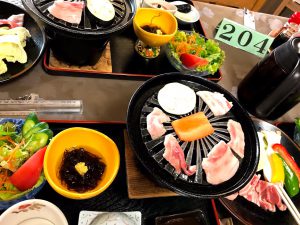 Around the pension, there is a convenience store, but we couldn't find any other possibility for dinner. Therefore, we booked the dinner & breakfast option.
The dinner was a Japanese BBQ (local pork and vegetables) and small salads (vegetable & seaweed) and fresh cooked rice from Akita was served. All things tasted very good and the staff was very friendly.  
The breakfast is very traditional Japanese style, everything tasted very good. After breakfast, you can take a bath in the hot spring and after that play with the Akita dogs before check out (10:00).

Not enough time to stay in Odate for one night? Only taking a bath is also possible!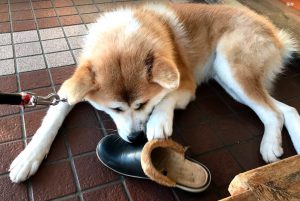 Facilities in this pension are not new, a Japanese 70's or 80's style. And the room has no own toilets (that means using toilets with other guests). 
There are some other hotels or pensions which have better facilities in Odate, but still we recommend to stay at this pension "Furusawa Onsen". We became big fans of Haru & Hana, they were so cute! And also the staff of this pension was so kind and friendly, we could feel like in our own home in this pension.
If you have no time to stay for the night in Odate, it is also possible to only take the hot spring (350 Yen per person). The pension offers lunch and coffee.