It was so hot on our way to the ferry
When we arrived at Kagoshima chuou station, we felt the difference in temperature compared to other cites in Kyushu. Maybe it was so hot because of the active volcano? Every inch of ground in Kagoshima was covered with grey ash. 
Surely, our main objective was to visit the active volcano on the island nearby! We were heading for the ferry station.
According to the internet, there are 2 ways to access the ferry station, if only public transportation is used. 
We chose to ride a tram to the aquarium station, and it took about 7 minutes to the ferry station by foot. It was so hot on our way there! Another way using JR takes 2-3 minutes more.
If you want to go to the ferry station in Summer, we recommend maybe taking a taxi from Kagoshima chuo station…
Only 15 minutes of cruising to Sakurajima
We could clearly see Sakurajima from here! It only takes 15 minutes to Sakurajima! And it only 200 Yen for an adult, 100 Yen for a child. You can find more English information here.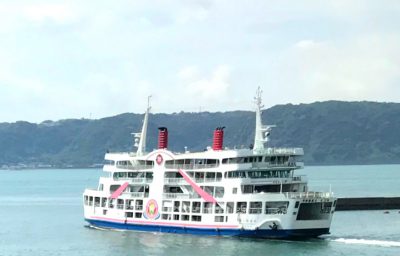 In the ferry, we were very happy with the air conditioner. Finally, we were relieved from the baking heat.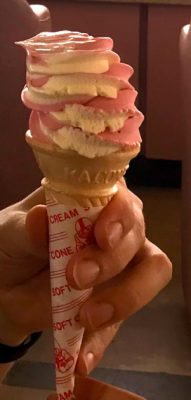 In the ferry, you can eat some snacks like Udon, but it only took 15 minutes to Sakurajima, so our choice wasn't Udon but soft ice cream.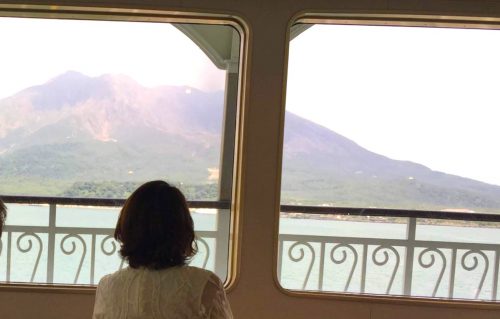 We could see Sakurajima through the window of the ferry!