Even if we had our tickets, we had to wait for 30 minutes
Actually, we already knew that this famous digital art museum is very popular for international tourists. Therefore we've already purchased our online tickets, but when we reached the entrance of the Mori digital museum, the long waiting line astonished us.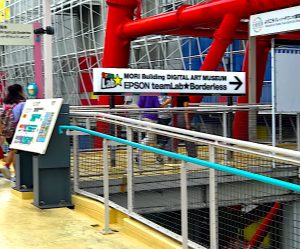 It was raining and there was no shade in the waiting space. The waiting time to enter was shown to be about 30 minutes.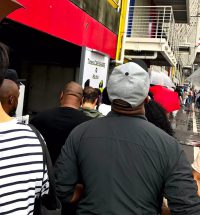 We weren't sure if we could really enter the museum after 30 minutes of waiting. But the information was really accurate, we were in the museum 32 minutes later.
When we left, it was around 14:00, the waiting time was shown to be 1 hour…
Is the Mori Building digital art museum really worth visiting?
Sure, it was amazing that we could experience such beautiful digital art.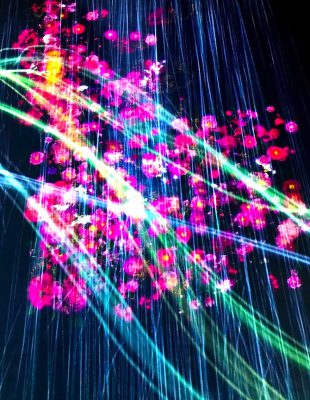 It is surely worth visiting, especially for Instagrammers, but honestly saying, we were not really amazed in this museum. 
It was too crowded, there is additional waiting time in the museum
Because visitors basically may access every area freely and they can stay there during the entire opening hours after entering. Therefore, too much people stay in some favourite spaces.
Visitors can enjoy amazing shows, but you maybe have to wait to watch them.
It was very hard for us to understand where we were just at that time. Because of the darkness, to find the way to favourite spots was not that easy. We couldn't reach the forest of Resonating Lamps, for example.
A Beautiful tea house, but waiting is required
There was a cafe in the museum where you can enjoy digital art while drinking tea. A cup of green tea costs 500 Yen,  Macha ice cream set with tea costs 1200 Yen. 
The prices are not that low, but it was worth trying them. The idea is really good, but we had to wait about 20 minutes to take our seats.
We recommend to visit before 11:00 , wearing a sporty outfit and a full stomach
Even though the ticket fee is not that cheap, waiting time is required, but you want to visit this museum indeed? Then, we recommend strongly reaching the museum before 11:00. You have to purchase your ticket online in advance.
It would also be better avoid to visiting it on weekends or holiday seasons, if possible.
You should wear a sporty outfit, because there are some active spots. Wearing a mini skirt is not good, because your underwear can be reflected in the mirror on the floor.
We also recommend eating enough before visiting. Most visitors stay for about 3 hours, but there is only one tea house in the museum.

Be careful, don't get off at the wrong station!
Do you know that there are 2 teamLabs in Tokyo? The other one, the teamLab Planets TOKYO, is open until Fall 2020 near Shin-Toyosu station.
But if you want to visit the teamlab Borderless, you have to get off at Aomi station (3 minutes walk) or at Tokyo Teleport station (5 minutes walk).