The Backen in Kagoshima is our absolute favourite
Because our hotel in Kagoshima offered no breakfast, we had to research which cafe or restaurant offers the best breakfast in Kagoshima.
Our choice was the "Backen" in the Tenmonkan area. 
The "Backen" is a so called bakery restaurant, which offers breakfast & lunch menus with fresh breads.
We chose 2 morning combos (scrambled egg, thick sliced bacon, sausages and salad) and one baked corn soup.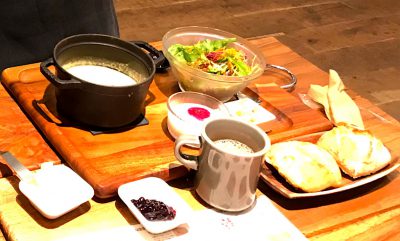 The baked corn soup menu
Actually, this baked corn soup was for our child, but he "gave" it to me and took the heavy morning combo…
The morning combo menu
He was right, this combo menu was the best breakfast ever for meat lovers.
The all you can eat bread menu
The quality of the breads from Backen was fantastic, they had a wonderful smell and an intensive taste. Moreover all you can eat as many breads as you want.
This "all you can eat" style is an uncommon style. You have to select your favourite breads and they come fresh from the oven. If you need more, you have to select breads again and they will come also fresh from the oven too.
We recommend that you don't order many bread at once. The outside of  breads from Backen was crispy, but the inside was massive, chewy dough. 
How to access Backen in Kagoshima
Backen is located in the Tenmonkan area in Kagoshima. This restaurant is in the 2nd floor of the Hotel "Mate". The entrance of the restaurant is on the right of the parking lot of this hotel. You then have to go up the stairs.
If you want to stay in Kagoshima, we recommend booking your room in this Hotel, because it offers a room with a breakfast in Backen.