A specialty from Akita, Babahera ice cream
Do you know the Babahera ice cream? It is a special ice cream from Akita. 
Baba means an old woman and hera is a spatula, this ice cream is sold on the street or outside the station by old women, and they serve ice cream with a spatula, so this ice cream is called "Babahera".
A packed version is available at a convenience store
We've already visited Akita 3 times, but we didn't know this ice cream, but we can remember that some old women stand in front of the souvenir shops in Kakunodate. Maybe those ladies sold this specialty.
We wanted to try it, so when we visited Odate this year, but we could not find such ladies anywhere, maybe a weekday is not good for sales.
But we found it at the convenience store in Odate station!
We were very happy because we could finally try this specialty in Akita!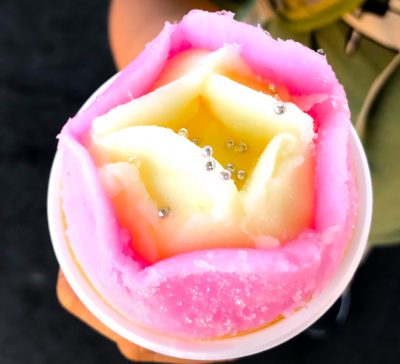 This ice cream looked really beautiful like a rose, too beautiful to eat, but we ate it anyway. 
It was not ice cream, but sorbet and the pink part was strawberry flavour and the white (yellow?) part was banana flavour. Its aftertaste was very fresh, it was good for a hot day in Akita.