Riding the Toden tram, visiting the down town Tokyo and eating the softest Tonkatsu in Tokyo
The toden Arakawa line is the only  tram in Tokyo. If you want to visit the downtown areas of Tokyo, you should ride on it. If you are hungry, the restaurant "
Donbei
" is our recommendation in this area. If you like Tonkatsu and the
Kodoku no Gurume
(Solitary Gourmet).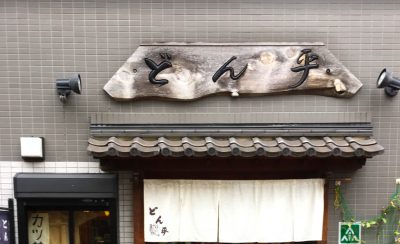 Restaurant from Solitary Gourmet, the episode 10 of season 3
Goro
came to this area on business and found this restaurant. Though he actually wanted to eat Tonkatsu here but he ordered the fire sake pot. He changed his mind when he saw the other guests were eating this pot. We did not eat this pot, but  we ate the other dish which Goro ate at the end of this episode. It is the Tonkatsu with demi-glace sauce.
Tonkatsu with a demi-glace sauce, Rice, Miso soup and cabbage refills are for free
The Tonkatsu of Donbei is served with demi-glace sauce. You can add it to the Tonkatsu sauce, if you like. You can eat your rice with grated Japanese yam. Be careful, it makes around your mouth itchy. The big surprise comes after you put the Tonkatsu in your mouth. It is unbelievably soft.
Why is this Tonkatsu so soft?
The secret of this softness is the boiling part. The pork loin is cooked for 6-7 hours, cutted and dipped in the flour, egg and breadcrumbs.