Japanese seasoning "Chopped spring onion and salt"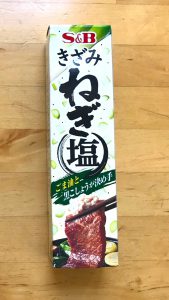 Every time when we visit Japan, we bring some new seasoning from the super market.
Last year, we chose this seasoning "Kizami Negishio" from S& B. It costed only 100 Yen plus tax at the super market. Kizami negi means chopped spring onion and shio is salt.
Can we recreate the beef tongue with spring onion & salt from Gyukaku with this seasoning?
We love the Negi Gyutan Shio from Gyukaku, so we thought that we could recreate this tasty Yakiniku with this seasoning at home.
According to the info on the back, this seasoning is suitable for soups, salad, natto and egg rice.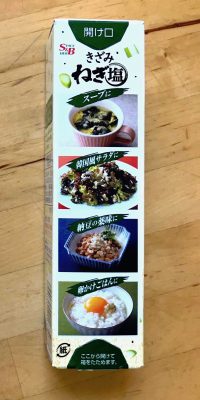 Wow, it is a multipurpose seasoning!
The rating from Amazon Japan is terrible...
The tube is filled with the white cream; oh, apparently it looks far apart from our favourite Negi shio from Gyukaku…
We have a baaaad feeling about this… 
Sorry S&B (the maker of this product), we can not recommend this seasoning to anyone, just like majority of the ratings on Amazon Japan…
It tasted only salty and oily… We can use it up somehow, like for the sauce for marinated meat, but as a seasoning, it is really hard to imagine using it…