What is the definition of Sapporo ramen?
Maybe Miso is used for the soup, and added corn and butter as toppings. But there are various types of Sapporo ramen style.
Simple or more toppings or flavour?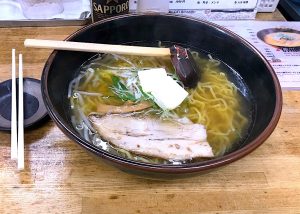 The variations of Sapporo Miso Ramen have been increasing. It would be not easy to find your favourite.
Here you can see some variations of popular Ramen shops in Sapporo. Sorry, that the informations are written in Japanese. But many photos and links to the ramen shops would help you.

Salty soup or Miso soup? With butter or corn as topping? Find your Ramen style in Sapporo
Ramen in Miso soup is not the only Sapporo style ramen. If you prefer to try salty or soy sauce soup, there are also many choices. As  information it would be better to avoid to select the ramen with too many seafoods, like crab, because it takes too much time to eat. Why is the time you need to eat so important?
What to know, before visiting the best ramen shops..
Japanese people eat Ramen very fast. It takes 10 minutes after serving their ramen on the table, for men, maybe even shorter.
One reason is to prevent that the noodles get soggy. Another reason is that they can't spend much time for eating.
According to the statistic about the average eating time of lunch for male office workers is 20 minutes. Many office workers take their lunch time between 12-13:00. At the front of the best ramen shops there are long lines at this time. It means here they should wait for their turn and after eating go back to their work as fast as possible. 
If you can't eat so fast like Japanese, it would be better to go the best ramen shops in the office areas at a time when they are not crowded.