The Wagyu lunch box at Tokyo station
When we ride the Shinkansen from Tokyo station, we buy some bentos (lunch boxes) at the station or Daimaru department store.
One of our selections was the Gyumeshi from Miyabi in Kanda Myojinshita.
This restaurant seems to be a very traditional Japanese restaurant, but this lunch box was not that expensive.
This lunch box is ideal for meat lovers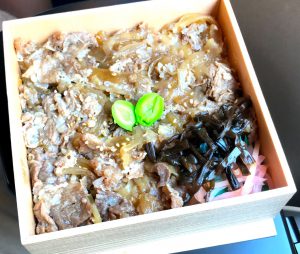 It looked like a Gyudon, but the quality of meat was very good! Japanese beef was used for this lunch box and it tasted very elegant. 
Our only problem was that the food was not that easy to eat. If you can't use chopsticks well, ask the staff for a spoon.