Komeda coffee comes from Nagoya
Komeda coffee is a very popular cafe restrain chain in Japan. It started as a small private cafe shop in Nagoya.
Do you know the cafe culture in Nagoya? Even if you order only a cup of coffee, some toasts, a cooked egg and more come on your table. 

The Katsu sandwich is our favourite
Our absolute favourite is the Katsu (fried pork cutlet ) sandwich. It is really tasty! When we visit Japan, we have to eat this Katsu sandwich at least twice. 
It is very big, you should share it with someone. If it is served normally, it is cut into 3 pieces like the photo above.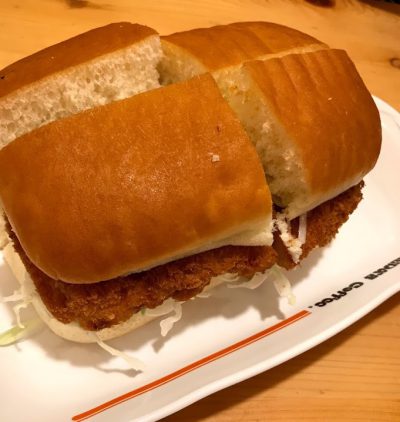 If 4 people are at the table, it is cut into 4 pieces.
Shiro-Noir is the most famous dessert, but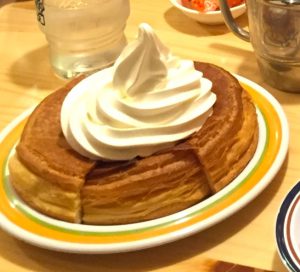 In our first visit to Komeda coffee, we ordered a Shiro-Noir, a dessert which made Komeda coffee more popular. 
It was very iconic, soft ice cream was on a hot danish with syrup, but we had to consider if this combination with a hot danish and soft ice cream is special? No doubt, it tastes not that bad, but maybe we expected too much?
Even though Komde is a cafe shop, the coffee drinks taste (for us) not that good. But we love cold drinks from Komeda very much.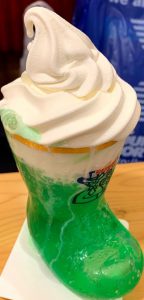 Our favourite cold drink is indeed this ice cream soda in a boot. It is very photogenic and the combination of melon soda with soft ice cream is wonderful!
Don't forget to try the beans!
If you order something to drink, such a small package like below is served on your table.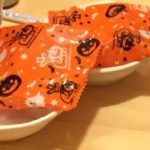 Some beans are in the package. They were a very yummy snack. Don't forget to try them.