The rice cracker which wishes that happiness can return to the consumer?
"Happy Turn" is one of our favourite Japanese rice crackers. When we visit Japan, we have to buy some as a souvenir.
In 2019, we found the Edamame (green soy beans) flavour in Japan.
Do you know why this cracker is called "happy turn"? According to the website of Happy turn, when this product started being sold, it was in the middle of the first oil crisis in Japan. The company "Kameda Seika" wished that happiness comes back to the consumer in such a severe situation.
Is Happy powder a magical powder?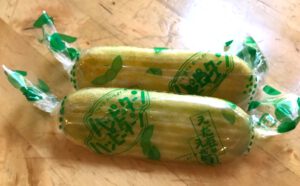 The Happy turn is not a Japanese traditional rice cracker. It has no soy sauce flavour but it is sweet and salty. This tastes come from the powder which covers the outside of the rice crackers. This powder is the so called "Happy powder" or "magical powder" in Japan.
Why is this powder called like that? It's because it has a really strong addicting power. We were also addicted to this happy powder taste. 
Now, we really miss Happy turn… If happiness would return, it would probably happen when we can eat Happy turn again…