A perfect weather for sightseeing in Shodoshima, did our wish come true?!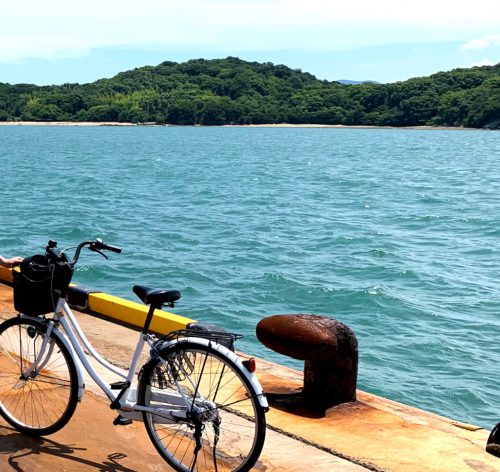 Shodoshima is a very popular spot for cyclists.
You can rent bicycles in various spots in Shodoshima and enjoy a cycling tour. You can see detailed information and the cycling map here.   
Kashima beach, does it look like our private beach?
We rented bicycles at the Ohkido Hotel next to the cycle station Shodoshima. One bicycle costs 600 Yen for 4 hours.
We started from the cycle station near the Tonosho port and wanted to do a round trip on Maejima. 
But we had to make a stop at the Kashima beach, because the weather was perfect to swim.
Some beach shops just started to preparing for opening, so no one except us was swimming at this beach. It looked like the beach was our private beach!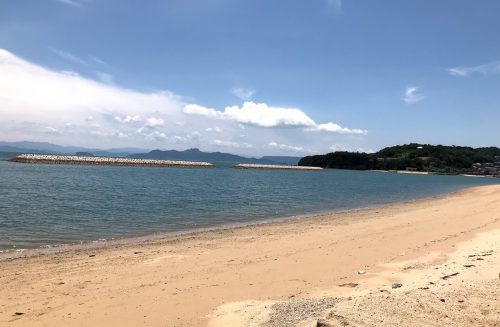 The water was little bit cold, but it was so amazing! 
The view from this beach was really awesome! During our visit Japan in July, it had been raining often, so we really missed such a sunny day!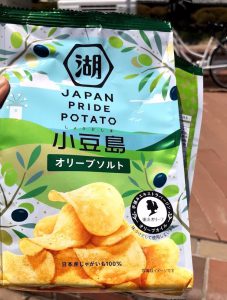 Near this beach, there is a big supermarket and we bought some snacks and drinks at this market before swimming. 
This potato chips were seasoned by the olive salt in Shodoshima and tasted really good!