The casual restaurant "Mujyaki" has a retro look
Mujyaki is the birthplace of the cold white bear, or the so called "Shirokuma". Mujaki's building is located in the center of Kagoshima, the so called "Tenmonkan".
In each floor, you can find a Teppanyaki (Grill) restaurant, a western restaurant, an Izakaya restaurant and Mujaki, but they all have one thing in common: you can enjoy Shirokumas in every floor.
Our choice was the casual western restaurant in the 2. floor.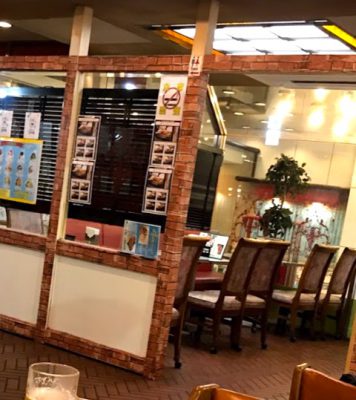 The atmosphere of this restaurant is a lively 80's style. Maybe it hasn't been renovated for at least 30 years…
We chose a set including a small white bear.
A Shirokuma (white bear) from Kagoshima is a bowl of shaved ice with fruit, jelly, sweet cooked beans and raisins.
It tasted very sweet because of the loads of condensed milk and syrup, but it has a refreshing taste too. 
In 1947, the owner of Mujyaki started to sell this cold sweet, Shirokuma. You can see a photo of the first version of the white bear here.
We ordered three small white bears, but there are various bears waiting for your order.
Black pork and white bear, an awesome experience!
Before trying a white bear, we ate some dishes made with black pork from Kagoshima. Holy frick, it's so juicy and intense !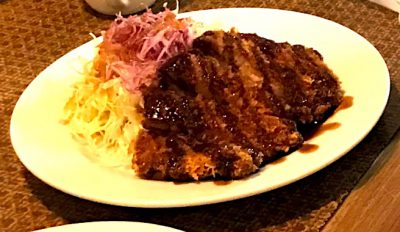 We did not expect that the dishes are this good, but we had to say that all of these dishes were so delicious!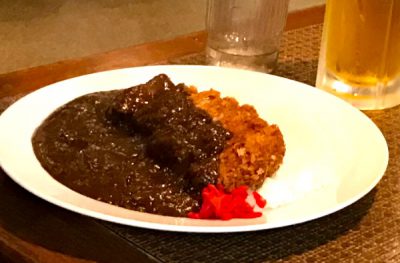 Especially the omelette rice was fantastic!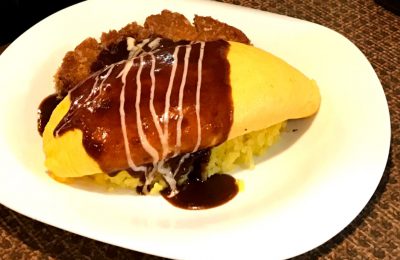 We recommend a combination of omelette rice with black pork cutlets.