The 5 most popular restaurants in Osaka are gathered together in Shin-Osaka station
What the hell, this is an ideal spot to get a last-minute meal! The 5 most beloved restaurants in Osaka offer their specialities at the Noren Meguri (shop-curtain hopping) in Shin Osaka station.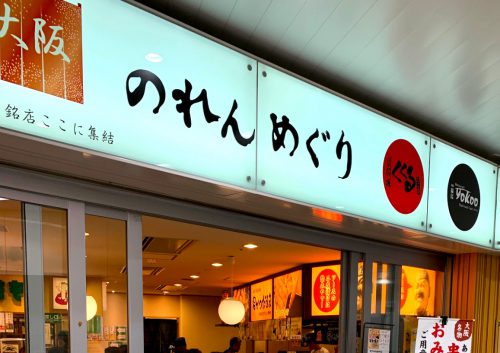 Some years ago, we enjoyed our stay in Osaka and ate many specialties from Osaka.
On our return trip from Himeji to Tokyo this year, and we had to wait for our Shinkansen for 1 hour at Shin Osaka station. Only 1 hour was not enough to go to the centre of Osaka, but we wanted to eat Osaka specialities, especially Kushikatsu (deep-fried skewered meat and vegetables).
Kushikatsu, Takoyaki, Okonomiyaki, etc. are freshly cooked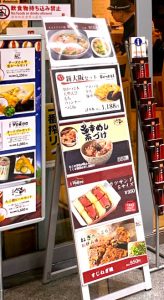 A bento box is also good, but we wanted to eat freshly cooked dishes. You can eat real Osaka specialties fresh without going outside here.

We found our favourite Kushikatsu restaurant very soon! The Daruma is one of the most famous Kushikatsu restaurants in Osaka. You can take fried foods away, but we indeed wanted to eat fresh food. There were some people in the line, but we preferred waiting.

If you are in hurry, choose a counter seat!
In Daruma, there are 2 types of seats, table seats or counter seats. We wanted to take table seats, but after 20 minutes of waiting, we still could not get our table seats. We told the staff that counter seats are also OK for us.
Just 25 minutes before departure of our Shinkansen, we could finally take our seats!
We were really happy to be able to eat fresh Kushikatsu! Oh Gott, we really love Kushikatsu!
If you are in hurry, we recommend to select a counter seat.
Actually, we wanted to buy pork dumplings (Butaman), but after finishing our dish, there was not enough time to find the Butaman shop.
We took Katsu sandwiches from Daruma as snack in the Shinkansen instead. They were also very yummy!