In the really tasty family restaurant ranking, the first place is Saizeriya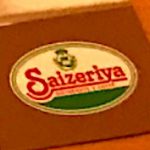 If you are travelling Japan with your family, your kids want to eat something, but you are not so hungry. What do you do in such a situation? Our recommendation is finding a family restaurant nearby.
Japanese Family restaurants offer various dishes and the prices are very low, most of them have a drink bar, it is a nice spot to take a rest or to eat something with a small budget. Because of its name "Family restaurant", children are welcome in these restaurants.
There are many family restaurants chains in Japan, western style, Chinese style etc. According to the ranking about "the really tasty family restaurants", the Saizeriya, family restaurant with Italian style won for being the most delicious family restaurant.
Real Italian? Rather Japanese Italian dishes
Saizeriya is our favourite Family restaurant. Especially we love Milanese Doria, grilled cheese, white sauce and meat sauce with rice! According to certain information, there are no such doria in Milano, but they taste really yummy!
Pizzas and grilled dishes are also good, they cost 300-600 Yen, that is really cheap, but they taste good and for Japanese Italian, its quality is really good.
If you are getting hungry by looking your children eating , you can order some meaty dishes as the ones below.
Lunch is 500 Yen including tax!
As we already have mentioned, the prices are very low in Saizeria, the main price category is 300-600 Yen, the highest dish is 999 Yen (Rib steak).
Especially the lunch is surprisingly cheap! You can choose your favourite one out of 9 dishes, each of them cost only 500 Yen, this price includes tax. You can see the lunch time menu here.
Our recommendation of Saizeriya
You should definitely try a Milanesse Doria! The pizzas und gratins are also very good and we recommend to order Focaccias too. 
On the other hand, we do not strongly recommend to order sea food dishes. Maybe, they were just not our taste, but some sea food dishes were too fishy for us. Especially we could not eat up the Spaghetti Nero di Seppia, though there is a certain number of fans for this spaghetti in Japan.