Japanese cheap sweets, Tirol chocolate
Tirol Chocolate is very famous for sweets for Japanese people. These small chocolates first cost only 10 Yen at mom-and-pop candy stores. Now they are sold at convenience stores and supermarkets. They cost 20 Yen at convenience stores. The size is a little bit bigger than before, so the price rising is not that unfair.
Uses 20% more Matcha powder from Uji in Kyoto than before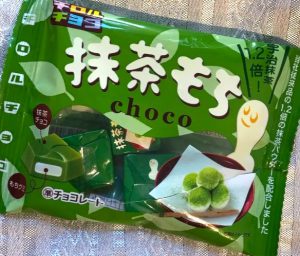 The company of Tirol chocolate sometimes has ideas that are very unusual, like wine, pumpkin or gouda cheese flavour.
The creation "Kinako-Mochi" (きな粉餅: Sticky rice and soy beans powder) became a big hit in 2004.  After that many other Mochi products were added. The Matcha-Mochi  (抹茶もち) is one of the best products, we think. We find it delicious!
These small sweets cost only 110 Yen for 7 chocolates. You can pack them in your suitcase very easily, because its size is very small and flexible for packing. An ideal souvenir!