The Japanese cult snack "Umaibō"
The Umaibō (delicious stick) has been sold since 1979. This year(2019), the Umaibō celebrates its 40th anniversary.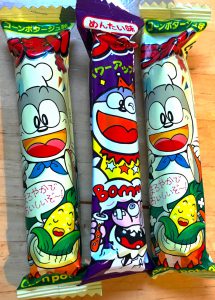 Still now one stick costs only 10 Yen
We always buy many Umaibōs as our souvenir, our favourite flavours are Mentaiko (spicy pollock roe) and corn potage. Because they only cost 10 Yen still now, we can try some new flavours easily (and cheap!).
Our new favourite flavour is Yakitori!
This year, we tried this Yakitori flavour (grilled skewered chicken ), it was amazingly yummy!
The smoky flavour reminded us of the real Yakitori, but it is not normal chicken Yakitori, it is a Shiro. You can see it on the package, the skewered thing is rolled.
Did you know that the Shiro is actually no chicken, it is pig's intestines. According to the table of ingredients, no meaty things are shown. It is really amazing how they recreate the real Yakitori flavour.