Finally, we could see the castle of the wild Shogun for real!
During our stay in Japan, we found the excellent drama series in early morning. It was called Abarenbo Shogun (Unfettered Shogun). In this series, we saw the beautiful castle. It was the Himeji castle.
Actually, we didn't have enough time, because we had already reserved our seats in the Shinkansen to Tokyo from Shin-Osaka. But on the way from Okayama with the Hello Kitty Shinkansen, we saw this name "Himeji", then we have to make a stop in order to visit the castle of the Abarenbo Shogun!

The access to the Himeji Castle is good, but don't take the wrong bus
From the North entrance of Himeji station we took a bus to near the Himeji castle. There are many busses from Himeji station, you should really pay attention for the number of bus and the route. Especially for us, it was very important to take the correct bus. 
It is not that crowded before noon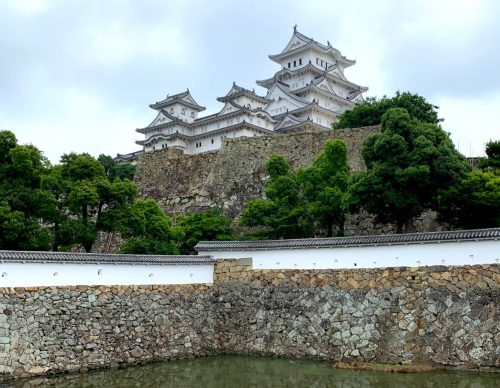 At the ticket office, there were many people already waiting, but it took not that much time to enter. If you want to look the castle from the garden, you don't need to buy a ticket. 
We started our tour to the main keep of the castle before noon, but at our return we heard the announcement about the control of the number of visitors.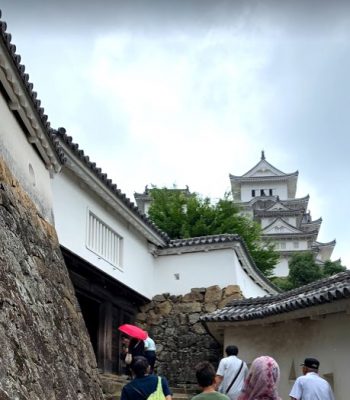 Sneakers are good for the castle visit
If you want to enter the castle, we recommend wearing sneakers or something easy to take off. To get to the castle, you have to climb many stairs outside and inside you have to take off your shoes.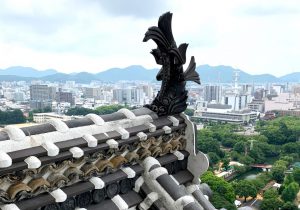 A ninja is maybe waiting for your visit.
The friendly Ninja was at the garden! We could take some photos with him. He is a really nice guy!