World heritage sites of Japan's Meiji Industrial Revolution
Hashima, more famous as its nickname "Gunkanjima" (battleship island) is in the UNESCO world heritage site since 2015 (Sites of Japan's Meiji Industrial Revolution: Iron and Steel, Shipbuilding and Coal Mining).
This island is famous because of the James Bond 007 film "Skyfall", but the movie was not filmed on this island. The set which was inspired by this island, was used in the shooting.
Highest population density in the world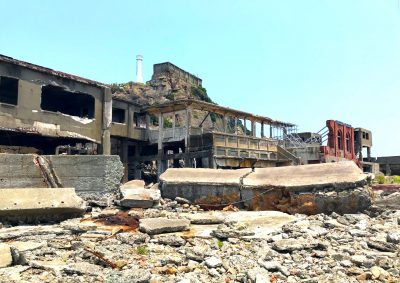 Here was the highest population density in the world at its most flourishing time. For the mining of coal it was necessary for workers and their families to live on this small island.
Flourishment & Declination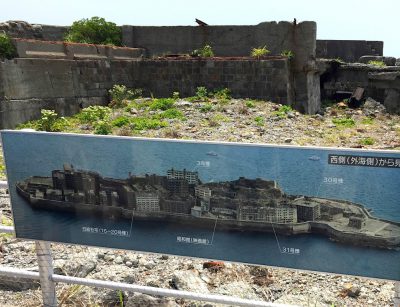 But by 1974 the coal mining was over and all residents left this island. After stopping the mining this island was almost forgotten. But because it got added to the world heritage site list now many tourists visit this small island.

How to get Battleship Island - Gunkanjima in Nagasaki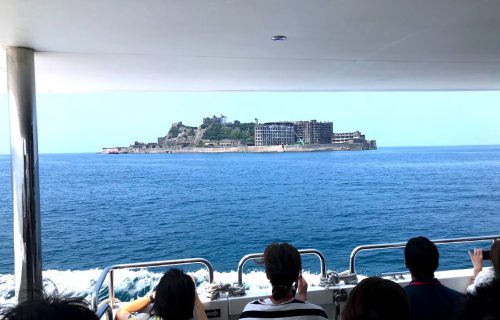 There are some companies offering sightseeing tours which start at the Nagasaki port. English audio guides  are also available. If you really want to visit this island, we recommend to book your ticket in advance. The following companies have English websites.
The Gunkanjima Concierge Company
If you visit this island at summer, we recommend bringing your hat and something to drink. There is no shade on this island and you should prepare for the blaze of the sun. You can buy some mineral water on the ship. But just in case you should bring something to drink. For us the ice cream castella sandwich of Ganshokun (see the animation film below) which you can buy on the cruising ship of Gunkanjima Concierge was a good refreshment after the guide tour on the island.