There were always long lines where Tapioca was sold
It was for us a big surprise in our latest visit in Japan that so many people were waiting for so called Tapioca milk teas (bubble tea) in a long line.
The bubble tea boom was here in Europe maybe 6-7 years ago and at that time we saw so many shops where bubble tea was sold, but after this boom these shops have vanished. The trend of bubble tea in Japan is not the first time, there were already 2 big booms of Tapioca. This time is the 3rd tapioca boom in Japan.
We never tried a bubble tea here in Europe, so it was a good occasion to try it in Japan!
We had no time to stand in such a long line
But we did not want to waste our time only waiting for a tapioca milk tea, so we tried to find a not crowded shop where tapioca milk tea was on sale.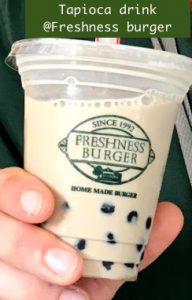 Our first tapioca was from Freshness burger, it costs around 500 Yen. It was not necessary to stand in line.
It tasted good and it felt very interesting to suck tapioca through a straw, but we were wondering why so many people stand in a long line for this drink. We know that Japanese people love such chewy and soft things, but there are enough alternative things in Japan, aren't there?
Tapioca was everywhere in Japan...
After our first Tapioca milk tea, we could find tapioca everywhere, for example at the Gundam cafe in Odaiba or in the cafeteria of Tokyo University.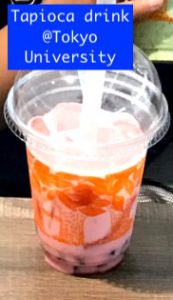 One of our members became a big fan of tapioca, he did "Tapiru" (It means drink/eat tapioca in Japanese) very often in Japan.
After drinking up all tapioca and tea, we always threw away empty cups and straw away to the certain plastic garbage box , but it seems that not all people did so. 
It was a really big problem that so many tapioca cups and straws were left on the street. There was still some tapioca in some cups. See here.
We thought that people love this drink, but maybe some of them just want to take a selfie with a sweet looking bubble tea.
It was too sensational news about the Tokyo Tapioca Land...
When we got to know the Tokyo Tapioca Land, it was too sensational…See this webpage.
The Tokyo Tapioca Land is going to close on 16.09.2019. After reading this article, we are really not sure, if we can find many shops of tapioca next year in Japan…