The Ginshiro somen noodles were awesome
After visiting the angel road, we were heading for the Tonosho port, because we were going to be picked up by the hotel bus there. We had still time to eat lunch, so we had to eat something special from Shodoshima.
Somen, extremely thin white noodles are one of the famous products from Shodoshima. Near the Tonosho port, you can eat excellent Somen noodles at a small shop specialised for Somen,  "Ginshiro".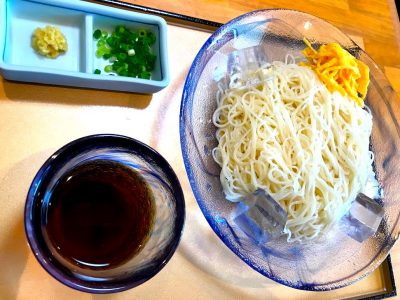 Ginshiro's somen noodles are really awesome! We have already eaten somen noodles in Japan many times, but Ginshoro's somen noodles definitely have a different quality.
The Somen menu is served very simply, sauce, spring onions, ginger and thin-cut egg omelet, but it was enough to taste such good noodles.
Opening hours are limited and the quantity is limited too
The shop is very small, and if you enter the shop, you could be a little bit confused. The entrance part looks only a souvenir store, but  you can buy a meal coupon to eat the Somen noodles in a room you can enter from the shop. Next to this store, you can see the small restaurant part. How to access this restaurant, check here (sorry, only in Japanese).
There are only 4 menus in this small restaurant, Ginshiro men (the white ones), black sesame noodles, an olive noodle menu (the green one in the photo above) and warm noodles (Nyumen). Additionally, there are 3 other warm noodles available only in Winter.
You can eat these awesome noodles only at lunchtime at this store, and you should be quick, the quantity is limited. If you cannot eat at the store, you can buy these noodle as your souvenir. If you want to know how to cook these somen noodles, you can check the web store of Ginshiro ( In English).