Enjoy your lunch with a wonderful view like working office women in Tokyo
Sky restaurans in the Sunshine 60, Ikebukuro
The Sunshine 60 in the Sunshine city is the highest building in the area of Ikebukuro. If you want to visit the 60th floor to look at skyscrapers, it is necessary to buy a ticket. Click here for more infos about  the tickets. Surely you can enjoy the best view from 60th floor. But instead you can also visit the sky restaurants  on  the 58 & 59th floor without such a ticket. 
The view from there is astonishing too. You have some choices there, there is a Sushi restaurant, a Chinese restaurant, an Italian restaurant and a cafe. One of them has a kids space. You can enjoy dinner too, but lunches  have more reasonable prices. It is worth to have your lunch with such a beautiful view.
Lunch in the Tokyo Metropolitan Government building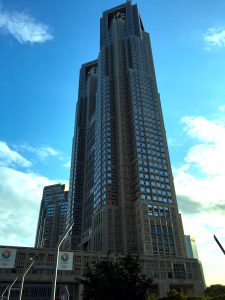 If you are in the area of Shinjuku, you must visit the
Tokyo Metropolitan Government building
. The
good view Tokyo
 is the only restaurant at the 45th floor of this building. If you want to eat your
lunch
, be careful, it is sometimes necessary to wait for the elevator to the observatories. Visiting the observatories is for free, so  many people want to visit.
Lunch with the view of the Mode Gakuen Cocoon Tower
Maybe the Cocoon tower is the most outstanding building in Nishi-Shinjuku. This building is used mainly as a school, so there is no observatory. 
But from other buildings you can enjoy such a view. Rizzo Rante Spacca Napoli is one of the opportunities. This restaurant offers a lunch buffet and pasta or pizza menu. If you select  the buffet (only weekdays), you have to wait for a seat without a seat reservation.
At the restaurant 
Rizzo Rante Spacca Napoli
an English speaking staff is available. Also the English version of the restaurant portal"
Gurunavi
" (Gourmet navigation) can sometimes help you when reserving your seat.