We found this dessert mix at the 100 Yen shop in Japan. It says "Purin L" on the package. It looks like a pudding, but it's not entirely the same.
It included no egg, so we could bring it to our country without any problems!
Only milk is needed for making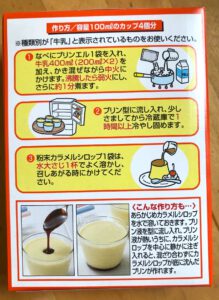 Making Purin L is easy, the PL mix (see the photo below) and milk (400ml) are mixed in a pot with medium heat. When boiling temperature is reached, switch to low heat and cook for 1 minute. Pour the Purin into small containers and put them in the refrigerator after cooling.
Dissolve the caramel syrup powder (the small red bag) with one tablespoon of water.
There is one important thing: use normal milk (at least 3% fat), do not use low fat milk!  
Purin L tastes like a Pucchin purin?
Amazing! Even though it includes no egg, the taste of this purin is really good. In the internet, people said that Purin L tastes like Pucchin purin from Glico. We totally agree.
If you want to buy this Japanese pudding mix, Purin L is not the only one, you can also buy a Purin mix. These 2 products from House are very similar, but you can cook the Purin mix only using hot water (80 degrees) .