Enjoy excellent Japanese traditional sweets after your sightseeing
It is surely worth visiting this Japanese cafe "Hokusai Sato" after watching the Sumo hall or visiting the Edo-Tokyo museum.
Hopefully you don't have to wait long in front of this cafe, because this cafe is one of the most beloved cafes in Tokyo.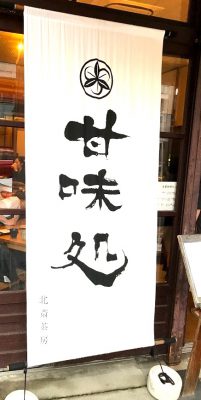 The name comes from the famous Ukiyo-e artist "Hokusai"
The name of this cafe "Hokusai" comes from the famous Ukiyo-e artist Hokusai. Maybe, you've looked his most famous work "Thirty-six Views of Mount Fuji". This area is said to be the birthplace of this famous artist from the Edo period.
We were very lucky, the Warabimochi was still available!
The texture was very soft and chewy and the soy bean powder had a wonderful aroma!
This one is a Japanese parfait "Anmitsu" with Matcha & vanilla ice cream. Wow, this conbination was awesome! The Japanese wafer "Monaka" added a special accent for this parfait.
The interior of this cafe is a simple Japanese modern design and the atmosphere of this cafe was a restored Japanese old house, we were very impressed. This cafe is an ideal spot for taking a rest for international tourists.