We bought some silent killers as a souvenir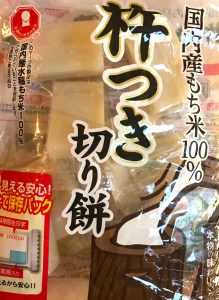 Mochi, Japanese rice cake is known as a silent killer. No one knows how many people have died because of this white rice cake, but mochi can choke people, especially elderly people. Some accidents because of choking on mochi are reported in Japan every year.
We bought some silent killers as a souvenir and cooked them after Japanese recipes.
We tested this silent killer "Mochi"
We've already eaten some mochis in Japan, but we found some differences between a mochi as sweet dessert and a cooked mochi at home.
This green mochi is "Zunda mochi", boiled mochi with green beans paste. Another one is "Oshiruko", sweet red beans soup with boiled mochi. Both dishes were really tasty, but really sticky.
We had to pay attention when eating. It is easy to imagine, if we eat quickly or don't chew well, it would choke us. According to some information, by eating bits as small as possible and chewing often you can prevent choking. It is also very important preparing something to drink when eating mochi.
Eating mochi would be dangerous, but if you pay attention when eating, you can enjoy really good Japanese New Year's dishes.